Free Pickup at The Grand Antique Mall for Online Orders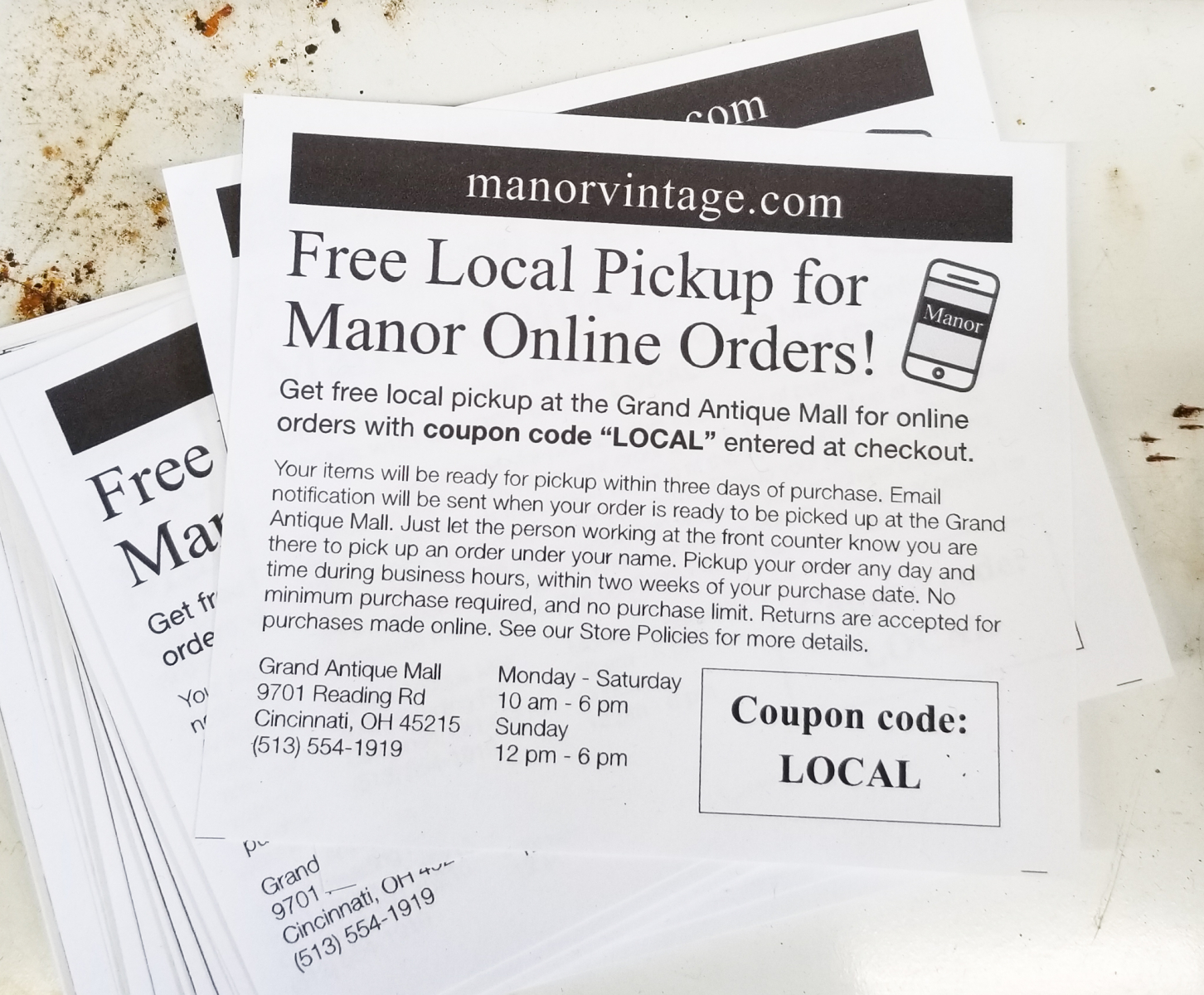 Get free local pickup at The Grand Antique Mall for Manor online orders with coupon code "LOCAL" used at checkout! No minimum purchase required, and no purchase limit. Shop to your heart's content, and skip the shipping costs by picking up your purchases at our physical shop location, on Reading Road in Cincinnati Ohio. Make a day trip out of it, and check out these other amazing small businesses while you are in the area!
Add the items to your cart.
Enter coupon code "LOCAL" in at checkout, and click "Apply to order". This should cancel out any shipping charges.

Complete the checkout process. You will receive an email receipt.
Email notification will be sent when your order is ready to be picked up at The Grand Antique Mall.
If you would like text updates about your purchase, just put your phone number in the "Order Comments" section at checkout. Your phone number will be confidential, and only used for text notifications about your purchase.

Pickup your order any day and time during business hours, within two weeks of your purchase date.
Just let the person working at the front counter know you are there to pick up an order under your name.
Returns are accepted for online orders. See our Store Policies for rules and exclusions.
The "LOCAL" coupon only qualifies for purchases that will be picked up at the Grand Antique Mall, in Cincinnati Ohio.
Your order will be ready for pickup within three days of purchase.
If not picked up within two weeks, your order will be canceled and refunded.
Returns for purchases made online are accepted. See our Store Policies for rules and exclusions.
9701 Reading Rd
Cincinnati, OH 45215
Booth #240
Monday - Saturday 10:00 AM to 6:00 PM
Sunday 12:00 PM to 6:00 PM